Posts
The Sonny Sharrock Quartet "Stupid Fuck"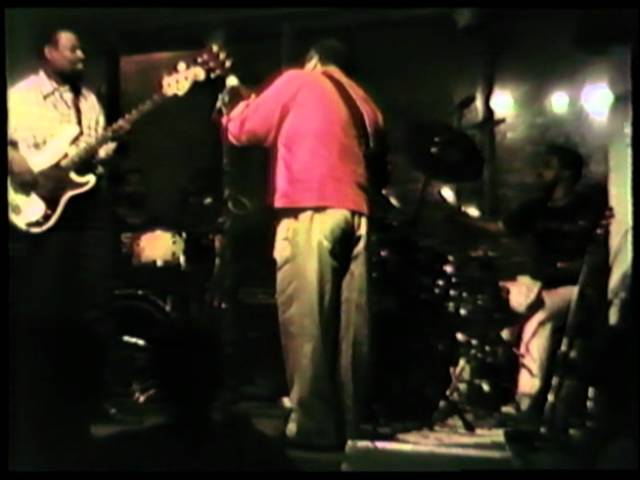 By the late 1970s, Sonny Sharrock was an obscurity living in quasi-retirement. As jazz was fusing with rock and an emergent avant-garde in the decade prior, Sharrock was a sideman on several classics (including an uncredited appearance on Miles Davis's A Tribute to Jack Johnson) and recorded a defining record of his own, Black Woman, as a leader. He lent his talents to the explosive R&B group Brute Force for their 1970 self-titled, and his solos on a slew of Herbie Mann records would famously make a fan out of Thurston Moore. But after a series of less-than-satisfying albums under his own name for Atlantic (including one that was shelved before production), and staring down the end of his marriage to creative partner Linda Sharrock, his output ground to a halt.
Sharrock grew up in Ossining, New York (shoutout to Don Draper, Obi Toppin, and my girlfriend's dad, in no particular order). Inspired by the spiritual exploration of John Coltrane, he tried to play tenor sax before accepting that his asthma was too great of a limiting factor. Instead, he picked up a guitar and set about making it sound as much like a saxophone as possible. He enrolled in Berklee College of Music, later joking about his experience, "There were twenty-six guitar players, and I was the twenty-fifth… then the guy who was twenty-sixth quit and started playing baritone saxophone… so that made me the absolute worst guitarist in Berklee". He moved to New York, bouncing around gigs and rubbing shoulders with luminaries such as Sun Ra ("He showed me two movies, and that was the extent of [our] relationship"), recording throughout the 60s and early 70s before entering the aforementioned fallow period.
In 1981, then-ascendant experimental musician Bill Laswell called Sharrock about playing a stint with his no-wave band Material. Sharrock proved a natural fit in the group's combination of funk rhythms and and sludgy guitar noise, as well as within Laswell's broader project of grouping together prodigious musicians with backgrounds in various genres to see what the resulting music sounded like. Sharrock ended up recording on Material's debut Memory Serves (featuring fellow guitar luminary Fred Frith and Nas's father Olu Dara on cornet). The relationship between Sharrock and Laswell would prove fruitful for the former, kicking off a late-career renaissance featuring several of his most essential works.
One of these works was the metal-influenced jazz fusion record Seize the Rainbow. In all likelihood it's my least favorite of his big three albums as a leader post-1980, sandwiched between the more gonzo solo experimentation of Guitar and the fully realized masterwork Ask the Ages (the excellent Sunday review of which was my introduction Sharrock in the first place). Rainbow is incredible in its own right, but its mix of hard rock, funk, and free jazz exploration can veer a tad into Guitar Center-style prowess worship, the sort of playing that is spellbinding in a live setting but fails to jump out of headphones in the same way.
Perhaps it's this reason why I find myself more often returning to a video from a New York City date in 1988 of a song that didn't make the record. Sharrock was playing with the same band that recorded Rainbow: Melvin Gibbs on bass, Abe Speller and Pheeroan akLaff on dueling drums. He deadpans a dedication of a tune to the governments of South Africa and Israel as well as the NYPD; fittingly it's titled "Stupid Fuck".
Sharrock leads off the melody himself, almost as if he's summoning the other instruments one by one, before letting the rhythm section establish itself once Gibbs has mirrored him on the bass. As ever, his playing is characterized by an ability to balance the delicate and the furious: At 2:11, in the midst of the raging noise, Sharrock drops down to a whisper for a quick riff on a single note before building back up to a righteous fervor. About halfway through the tune the band dissolves into a ringing fuzz, out of which Gibbs settles on a hard, funky slap-bass groove and the percussionists land heavy on their snares; Sharrock dances atop the chaos with chorded, bluesy attacks reminiscent of some of the wilder experiments of Jimi Hendrix.
Of course, this being Sonny, he eventually leaves Earth entirely. Frenetic fingering gives way to otherworldly sounds, his left hand gliding so far up his black Les Paul's body that the frequencies approach canine-only territory. Right before his hands threaten to untether him completely from the rhythm section he locks some more subtle funk licks, exploratory chaos giving way to an ordered understanding. It's yet another moment showcasing his great strength as a musician—not only the vacillation between extremes but the ability to stop on a dime and meld these polar opposite modes in a sequence that feels natural.
After Rainbow, Sharrock would cut a series of records with Laswell's free-jazz supergroup Last Exit (featuring Peter Brötzmann on saxophone and Ronald Shannon Jackson on drums) and score the cartoon Space Ghost: Coast to Coast before completing the aforementioned opus Ask the Ages (featuring Pharoah Sanders and Elvin Jones, both famously sidemen with Sharrock's hero John Coltrane) before his untimely passing at the age of 53.
Towards the end of "Stupid Fuck", the whole band ramps up in intensity; Gibbs takes a moment to shine solo and Sharrock nails a perfectly sparse figure figure to embellish his bandmate. Together the four men traipse on until the last vamp, when Sharrock launches into one last final explosion; and just like that, it all ends.