Posts
Juicy J "Name It After Me / Outro (feat. Frayser Boy)"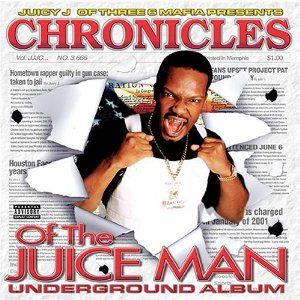 The thing you have to understand is that the Oscar wasn't guaranteed. The first rap song to win the award was "Lose Yourself" in 2002, in the midst of Eminem's imperial phase, written by the best-selling rapper of all time for a loosely adapted biopic. Eminem was an international phenomenon; a prodigious talent, sure, but able to ride the coattails of his racial privilege to woo the gatekeepers of alt-rock radio and transcend hip hop itself, which at the time was mired in racist controversy and often labeled a "bad influence" by ill-meaning national media figures.
Three 6 Mafia was granted no such leeway. Beloved cult heroes that they were, the Memphis rappers were hardly household names; the demonic moniker and horrorcore stylings were scarcely enough to inspire the kind of news-anchor-handwringing that Eminem could drum up in his sleep. So when they took the stage to perform and ultimately nabbed the trophy it was revelatory: a defiantly underground group of Black rappers conquering a frustratingly white institution without acquiescing to the monoculture that never understood them.
Three 6 Mafia was founded in 1991. In 2002--the same year "Lose Yourself" took home rap's first Academy Award--founding member Juicy J released his first solo album Chronicles of the Juice Man. His brother, the esteemed Memphis rapper Project Pat, had recently been deemed in violation of parole after a traffic stop revealed unlicensed revolvers in Pat's possession. The specter of Pat's incarceration is a through-line on Chronicles, and arguably hits an apex on "Name It After Me," where Juicy J pauses amidst his shit-talking to focus on the ways the police repeatedly punished poor Black people trying to survive.
"Name It After Me" is built atop a flip of David Ruffin's soul classic "Statue of a Fool," a song with an interesting saga in its own right. Ruffin is most famous for his work as a member of The Temptations with a serious solo career to boot. In 1975 he cut a recording of "Statue of a Fool" for his album Who I Am, and the Motown pressings credit Ruffin as the writer. Ruffin has stated numerous times he wrote the song at seventeen under the name "Little Eddie Bush," though the first hit version of the tune (Jack Greene's 1969 rendition which landed at #1 on the Billboard Country charts) as well as most other versions credit a writer named Jan Crutchfield. Ruffin's wife has corroborated that Ruffin claimed ownership of the composition throughout his life, but the narrative is complicated by the fact that Crutchfield has several hundred compositions to his name and Ruffin has scarcely any (a fact which Ruffin's wife readily acknowledges).
"Statue of a Fool" is a profoundly sad tune, an accounting of heartbreak in which the narrator identifies as as a statue of the "world's greatest fool" for letting a love get away. Ruffin sells the hell out of the thing, imbuing the words with lovelorn grit and bitter regret. Each chorus ends on the same imperative; build the statue, Ruffin sings, and "name it after me." It's a declaration of self-loathing, one in which a name is a thing to ascribe to one's worst mistakes.
In Juicy J's hands, however, Ruffin's words become triumphant. Three 6 Mafia weren't necessarily progenitors--you can point to any of DJ Squeeky, DJ Spanish Fly, Tommy Wright III among others as the true pioneers--but it's hard to argue they didn't put Memphis on the map on a more national level. So when Juicy chops up Ruffin's forlorn "Name it after me," it's not about self-deprecation; he's calling a spade a spade, asking for some respect on his own name. His raps are a perfect balance of tough talk and reflectiveness, opining on minimum wage and the drug trade and parole while still talking his shit and reveling in his own success. The joint chorus with Frayer Boy is the icing on the cake, a perfect invocation of the Memphis nursery-rhyme-cadence-as-threat: "On your block/In your fucking face/It's the sawed off."
Frayer Boy was a friend of a friend, a guy who hung around the studio often and happened to have a few lyrics written, in the right place at the right time. By Juicy's own admission "Name It After Me" came together quickly--the beat was made and they did the song in a night. It's apparent, too, in the best way possible--the song closes with a long outro where Juicy J rambles about drug dealing politics and the upcoming Three 6 Mafia movie sequel ("Choices Two coming out/Even though everybody died, I don't know how this shit gonna happen/But we got Choices Two coming out...") before asking if any girls want to meet him in the studio because he's lonely. It's a preeminent victory lap, one that feels all the sweeter for the more material success his group would have a few years later. But when Chronicles of the Juice Man was uploaded to streaming services, "Name It After Me" was left off along with a handful of other tracks (presumably do to issues clearing the sample). Frayer Boy ended up writing on the Oscar winning tune "It's Hard Out Here for a Pimp" and was thus on stage to collect the award on national television. Juicy put it best: "It was a blessing man. I was shocked. It was some underground shit."