In the waning weeks of 2019, right around the time I forgot to cancel a free week-long trial of Shudder after I'd signed up to watch One Cut of the Dead, I started poking around the strange world of 90s Memphis rap. This dovetailed rather nicely with a newfound appreciation of 80s horror movies: two universes in which moxie and innovation often outpaced resources, where the macabre was always strange and frequently hilarious.
Underneath more famous names like Three 6 Mafia, Project Pat, and 8Ball & MJG is a seedy underbelly of tapes ranging from quietly influential to singularly unsettling. Like any good regional rap scene there are a handful of breakthrough releases and a wider circle of classics for those more familiar, but the true meaning is in the exploration. I'm far from an expert, largely because my artistic interest tends to lean wide rather than deep and I'm easily distracted, but also because that's a nigh impossible thing to be here: Memphis was a wildly prolific scene that percolated away from most mainstream eyes for over a decade.
For Halloween I made a playlist of some of my favorite Memphis rap songs, mostly on the horrorcore side: In true Tributary fashion I've simply gathered a handful of songs I love that aren't available on streaming services—there are thirteen songs because thirteen is a spooky number. The tracklist is intentionally sequenced and, when played in order, will complete a ritual to summon the devil (a zip file is included for your convenience). If that's not really your thing, it should sound just as evil on shuffle.
Some of these artists are borderline-household names and others are very much not. But I also wanted to a shout out lot of the resources and guides I use when I want to explore because, again, the fun is in doing your own digging and finding your own favorites. The late writer Lucas Foster compiled a pretty definitive guide to Memphis rap (originally posted on Reddit, archived on Passion of the Weiss) which I highly recommend if you're looking for an entry point. Collectors have archived tapes for streaming on a plethora of YouTube channels and mp3 download blogs. For the visually inclined I found this flowchart online which I refer to from time to time.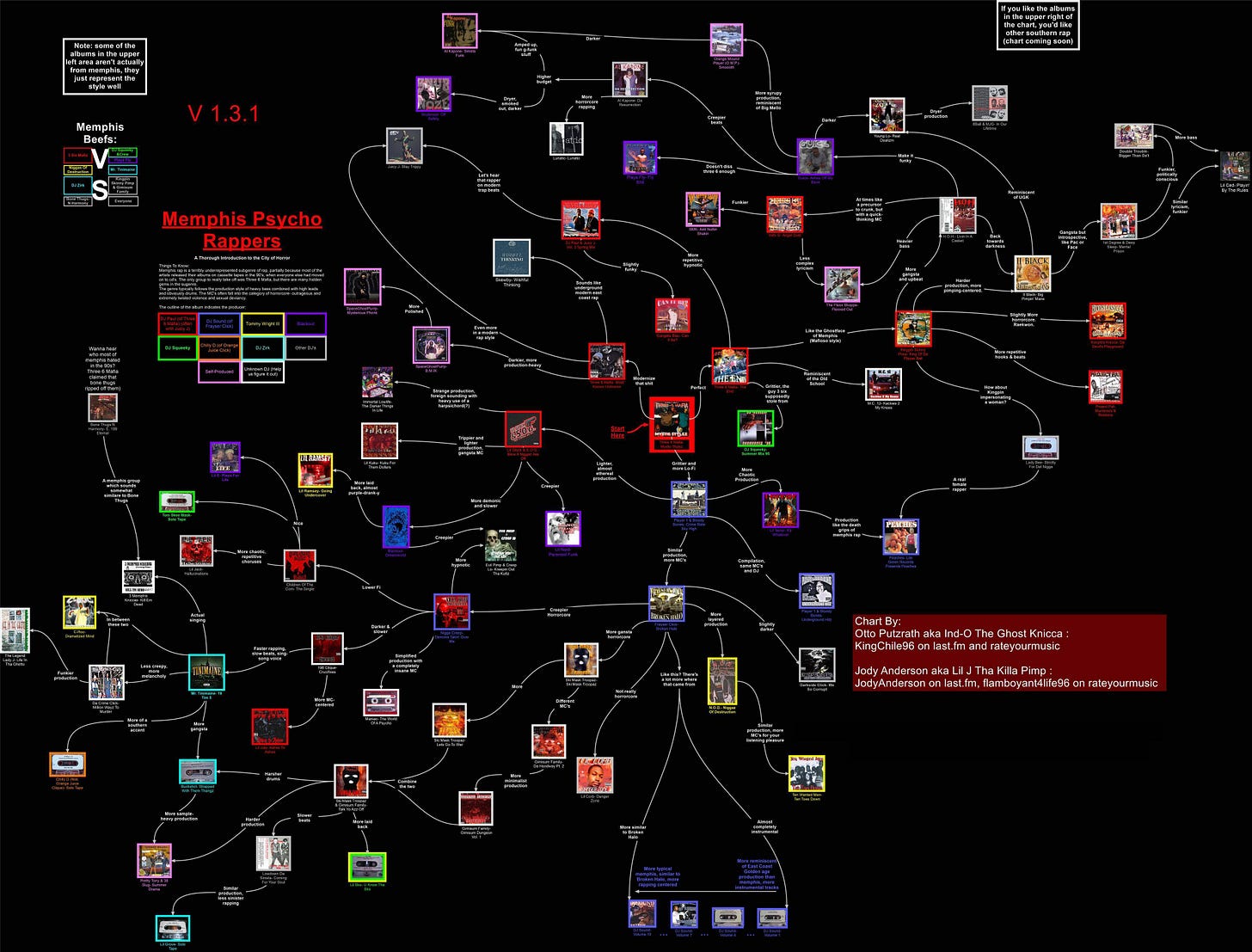 And now for our feature presentation:
Killa Thugs - "Evil Stang"
Plenty of Memphis rap skirts narrative lyrics to lean on atmosphere, but on Murder in Mississippi Killa Thugs spit tall criminal tales over demented nursery rhyme beats to terrifying effect.
Lil Jack - "Fuckin with a Demon"
There's a distortion on "Fuckin with a Demon" that pushes it to an almost punk bent. Beyond that, it's pretty disturbing that Lil Jack is intimating he has a supernatural relationship with Charles Manson that compels him to act as he does. Fire song though.
Graveyard Productions - "Horror Stang"
Likely the most unsettling song on this list: "Horror Stang" forgoes rapping entirely to combine dissonant synths with disturbing snippets of dialogue for a truly freakish 90 seconds.
DJ Paul & Juicy J - "On Da Scene Wit Da 45 Glock"
This proto Three-Six effort is indicative of Memphis producers' willingness to get pretty weird: an eerie guitar melody is supplanted with mafioso rap samples and rhythmic choruses in a way that's borderline meditative.
Kriminal Mafia Clan - "Buck in Da South"
This is a pretty straightforward southern rap banger with a bunch of hard-nosed MCs linking up to talk shit about how they'd kill you if you set foot in their neighborhood. The production--which sounds like the funkier fare of Houston of LA pushed way into the red--keeps the song just disorienting enough.
DJ Fela & DSP Click - "Murder"
"Murder" opens with an extended passage of Isaac Hayes's soul classic "Walk on By," setting the scene before DJ Fela pulls the rug out from under and chops up the strings. The resultant cacophony is eerie enough; the chants of "murder, more murder" are the icing on the cake.
Lil Kuku - "The Way You Move"
For as much as they loved freaky horrorcore beats, Memphis rappers adored soul flips. Lil Kuku puts his own spin on this classic Isley Brothers interpolation with juvenile horniness: "It feels so good when your tongue hit the peehole."
The Legend Lady J - "I Hate These Lyin Bitches 3"
Honestly this sounds like bass-boosted Scooby Doo chase music (complementary). Funky as hell, and she's talking tough shit to boot.
Tom Skeemask - "Cloud of Smoke"
Another surprisingly funky entry, DJ Squeeky laces Skeemask with an off-kilter swing for this one. Skeemask's washed out tough-talk raps add their own dimension.
Lady Bee - "Mask to My Face"
Lady Bee's "Mask to My Face" is sonically strange enough to merit inclusion, but its origin is even stranger. Much of Lady Bee's output is believed to actually be the work of Kingpin Skinny Pimp (a bizarre saga chronicled in this blog post).
Criminal Mafia - "Killin on the Porch"
A disturbing curio that sounds like a summoning. Criminal Mafia rap like they'll drive a stake through your heart and enjoy it.
DJ Paul feat. Gangsta Boo - "Chiefa da Reefa"
When the euphoria of getting stoned gives way to crushing paranoia, many people (read: me) pack it in for good. Over a menacing, minimalist DJ Paul beat, Gangsta Boo argues that's what makes getting high fun. She fears nothing and no one: "Everybody straight with Gangsta Boo cause I'm a crazy bitch." R.I.P.
196 Clique - "Creeping in the Dark"
Over John Carpenter synth stabs slowed to a crawl, 196 Clique spin harrowing tales fit for, well, creeping in the dark. The fact that this is only the first song on their tape Crucifixes? We should all beware...